Smart Solutions Rehab Group offers comprehensive allied health service for adults and seniors on the Sunshine Coast.
Smart Solutions Rehab Group specialises in the provision and coordination of multidisciplinary team services including:
We can offer individual rehabilitation services or a fully comprehensive team approach that integrates the services and strategies you need to achieve the best outcome.
We also specialise in matching your request to the service provider with the best skill-set to meet your needs.
Our aim:
Smart Solutions Rehab Group is committed to assisting every individual to live the best life they possibly can and to reaching their full potential.
Our mission:
To provide holistic assessment, appropriate evidence based treatment plans, clear goals and treatment time frames and to provide you with a self-management plan that puts you back in control of your health.
Our promise is to:
Listen closely to your needs
Ensure you have choice and control
Deliver the outcome you have requested
Currently we offer both mobile and clinic based services. We can come to you at your place of residence or work, or you are welcome to attend our clinic location in the heart of the Maroochydore CBD.
Individual services or all the services you need integrated into one comprehensive solution.
Here at Smart Solutions we believe in offering expert allied health services as well as providing access to the right mix of services as required. Every person is unique and has specific and varying needs.
In our experience, the best results come about through a team approach as each discipline shares their knowledge and expertise with each other and with the people that they look after.
Some of the ways that we use an integrated approach to optimise health and wellness include:
Assistance with managing stress and things that worry you
Providing training on eating well and having good nutrition
Assisting you to walk well
Ensuring you having the right equipment and a supportive environment to allow you to lead the life you want to lead
Providing physical treatment of the problem
Training in strategies and techniques to overcome difficulties or barriers to independence
Following up on medical issues and medications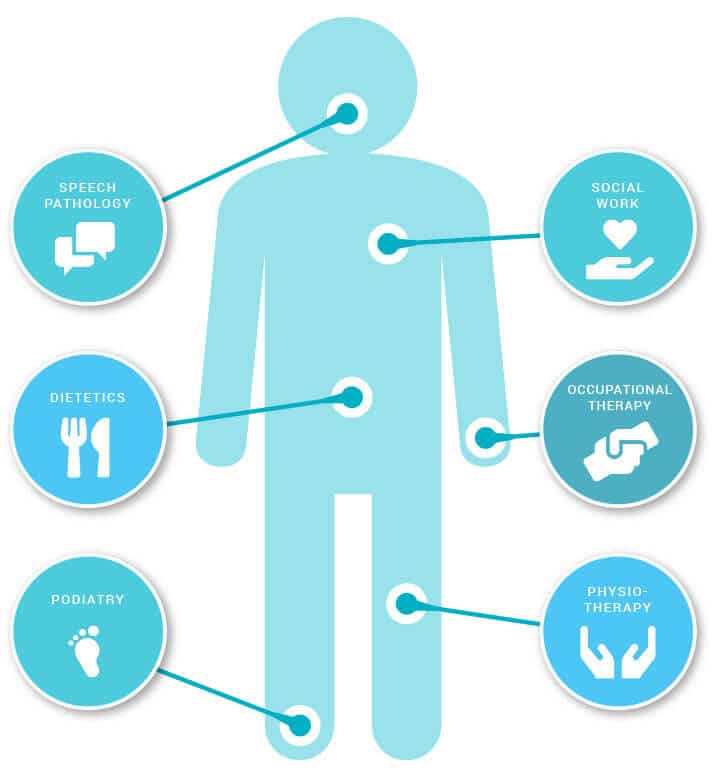 Who we work with
NDIS Participants
We are a registered NDIS provider and can assist with all therapy, functional capacity, assistive technology and home modification requirements
Individuals
One on one services are provided to individuals who are seeking expert advice and/or a comprehensive approach to their health and rehabilitation needs.
Government Departments and Agencies
We are a large provider of holistic allied health services to a number of state and federally funded health projects within the region.
DVA Gold/White Card Holders
Veterans, war widows and their significant other are eligible for all services.
Medicare EPC and Chronic Condition Management Plan Holders
Individuals holding an Enhanced Primary Care Plan or Chronic Condition Management Plan can be seen and are eligible to receive subsidized services.
Community Service Providers
A range of nursing, not for profit and community services, disability and aged care agencies ask us to provide direct allied health services for their clients and education for carers, staff and family members.
Nursing Homes and Retirement Villages
Nursing homes contact us in regards to specialized assessment for their complex and high need clients. A range of retirement village and carer respite centres also ask us to provide education and consultation services to their residents, carers and workers.
Self Insurers
Individuals who have private health insurance can be seen and may be eligible for relevant benefits.
CTP Insurance Agencies
Insurance agencies access our allied health team to provide comprehensive services to their clients who have sustained traumatic, serious and life altering injuries.
Workcover
Individuals who have sustained injuries during work and are covered by Workcover claims can be seen by our clinicians for rehabilitation, education and advice as required.
Employers
Employers contact us for ergonomic review of their work environments and work stations and for advice about optimal set up of these areas to avoid accident and injury. Employers also contact us in regards to Work Capacity Evaluations and Suitable Duties Programs.
Corporate Clients
Private businesses contact us in regards to environmental assessment of their office spaces, entry/exit areas, kitchen layouts and bathroom facilities in regard to Disability Access.
Our partners
Smart Solutions Rehab Group offers you the edge in rehabilitation services through directly employed allied health professionals and our partnership with established and respected health providers in the local community. Through these relationships, we are able to offer you the very best in allied health services.
We would like to acknowledge our partners:
Funding Options
A range of funding support is available for allied health services through:
Private Health Insurance
Other insurance providers