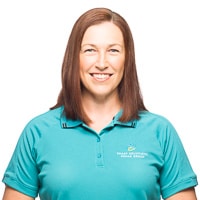 Caroline is a qualified physiotherapist and team manager who possesses a range of experience across various areas of the discipline. She particularly enjoys working in the community with the elderly, as well as falls prevention programs, orthopaedic rehab and pain management. Starting her career in hospital clinics, and undertaking additional training in Gerontology, Parkinson's Disease, Pilates and Hydrotherapy, Caroline enacts a holistic approach to her work, using exercise and education for her clients to help them achieve their goals.
Always thorough and precise, Caroline appreciates the unique experiences of every client, and loves getting to know each client as best she can. Seeing a client move well, move confidently and be out enjoying life is what Caroline loves most about being a Physio.
Caroline holds a bachelor's degree in Applied Science (Physiotherapy) from the University of Sydney.
Beyond her love of Physio, Caroline spends as much time as possible outdoors, enjoying the beautiful Sunshine Coast with her sons, husband, and dog.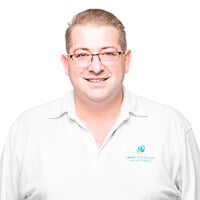 Ben works with a variety of patients including the elderly, NDIS, DVA, and with Queensland Health Transition Care, to assist them improve their functional capabilities and achieve their goals. Understanding that the path to recovery following injury can be difficult at times, Ben is committed to working closely with his patients to ensure they understand how to maximise therapy benefits.
Over the past two decades, Ben has worked closely with patients across the Sunshine Coast increasing his theoretical knowledge through training in Neurology, Musculoskeletal and general Rehabilitation medicine. Ben is also interested in the areas of hydrotherapy, back pain and falls prevention, and has previous experience working as a Physio with several major national and international sporting teams.
Ben holds a Bachelor of Science with Honours from The University of Wales College of Medicine.
When not practising Physiotherapy, you will find Ben on the golf course, camping, spending time with friends, and, most importantly, being a dad to his young son.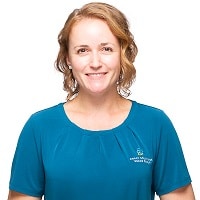 Kirstie works with individuals in the private and community settings who have been recently discharged from hospital and are experiencing some form of deterioration, for example in balance or strength. She incorporates manual therapy as well as functional balance and strength exercises to help her clients achieve their goals.
While Kirstie believes it is important for her clients to understand why they are in pain or have slowed down, she also recognises that in most cases, rehabilitation is possible. Helping people regain their strength is just one thing Kirstie loves about being a Physio, but she believes that education is key and is passionate about helping her clients understand the cause of their condition.
Kirstie holds a Bachelor of Physiotherapy from Glasgow Caledonian University, and has also completed courses including dry needling and treating headaches and migraines.
When not pursuing her passion for Physiotherapy, Kirstie loves spending time with her husband, and their very handsome cocker spaniel Dawson.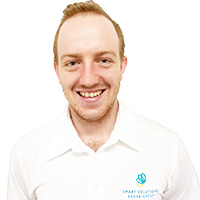 Aidan works with both NDIS and Community clients across the Sunshine Coast and Brisbane. With specific interests in the areas of orthopaedic and neurological rehabilitation, Aidan was drawn to Physiotherapy due to his love of helping people return to their full physical and functional capacity.
According to Aidan, one of the most rewarding aspects of being a Physio is seeing clients achieve each milestone as they work hard toward their individual goals.
Aidan holds a Bachelor of Physiotherapy from James Cook University.
When not helping his clients with their own physical capacity, Aidan likes to keep busy cycling and following his favourite sporting teams.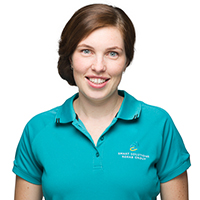 Hailing from the Land of the Long White Cloud, Georgia graduated with a Bachelor of Physiotherapy from the University of Otago, New Zealand.
Georgia is also a Physiotherapist who works with NDIS participants and enjoys helping them to maximise their independence and achieve their functional goals.
She believes that working closely alongside participants and their families plays a really important role in achieving positive outcomes.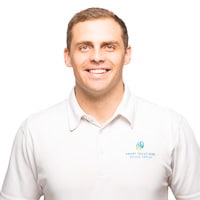 Tyler works with NDIS and HCP clients, as well as individuals who require additional rehabilitation after being discharged from hospital. Tyler also has experience in assisting people with amputations, neurological conditions or musculoskeletal injuries improve their quality of life.
Appreciating the importance of individualised treatment plans, Tyler believes that getting to know each client is essential to their recovery and achieving the best outcomes. He strives to communicate the why and how of the treatment process with every client, encouraging them to persevere, because he knows every individual has the potential to achieve great things.
Tyler holds a Bachelor of Physiotherapy with Honours from Central Queensland University, and is enthusiastic about continuing to expand his knowledge and skillset.
When not helping clients realise their goals, Tyler loves to get outdoors – playing sport, camping, and relaxing with his family.